If everything is filled out correctly, we will post your listing in 1-2 business days.
Be sure to Like Us or Follow Us on the Social Networks below.
We'll post all the companies that have been approved on Facebook & Twitter. So be sure to follow us.
Once you have been added to our directory feel free to link to your profile using one of the images below.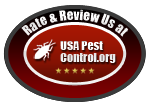 You can find these images at our USA Pest Control Page.